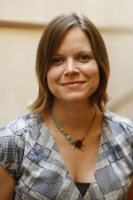 JoAnn Kamuf Ward is Counsel for the Human Rights Institute's Human Rights in the U.S. Project. Ms. Ward focuses on promoting the use of a human rights framework to address inequality and social injustice domestically. Her work includes developing strategies to strengthen federal and local mechanisms for monitoring and enforcing human rights as a member of the Human Rights at Home Campaign, as well as assisting with the Institute's treaty implementation initiative and the Bringing Human Rights Home Lawyers' Network.

Ms. Ward is dedicated to advancing respect for human rights in the U.S. and abroad. Her writing, research and practical experience focus upon improving access to basic rights such as education and housing and increasing avenues for political participation. She has also taught a course on international human rights as an adjunct faculty member at Fordham University School of Law.

As an associate in the general litigation group at Cleary Gottlieb Steen & Hamilton LLP, Ms. Ward gained experience in both federal and state court practice representing sovereign and private clients. Ms. Ward has zealously represented individual pro-bono clients, including several women seeking asylum from West Africa and an individual detained at Guantanamo Bay. As a participant in the Firm's externship program at MFY Legal Services, Inc., she represented individuals facing eviction. Prior to joining the Institute, Ms. Ward worked as a fellow at Fordham Law School's Leitner Center for International Law and Justice, researching and writing about international mechanisms for monitoring and enforcement of human and civil rights.
Ms. Ward is currently the Deputy Director for the Human Rights Clinic at Columbia University.