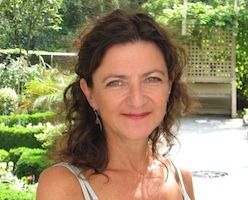 Professor Benedict is a novelist and journalist specializing in issues of social justice. Her most recent nonfiction book is "The Lonely Soldier: The Private War of Women Serving in Iraq," (2009 and 2010, Beacon Press), which won the EMMA (Exceptional Merit In Media Award) from the National Women's Political Caucus and the Ken Book Award in 2010. It also inspired a lawsuit against the Pentagon and Defense Secretaries Rumsfeld and Gates on behalf of women and men who were sexually assaulted while in the military.
Professor Benedict's sixth and latest novel, "Sand Queen," is based on research she did for "The Lonely Soldier" and also about women in the Iraq War. Culled from real life stories of female soldiers and Iraqis, "Sand Queen" offers a story of love, courage and struggle from the rare perspective of two young women on opposite sides of a war. "Sand Queen" was released by Soho Press in 2011 and is available in paperback in August 2012. Her play, "The Lonely Soldier Monologues," was produced several times in 2009 and 2010 in New York and is continuously being produced around the country, including in Chicago and San Francisco in 2011 and 2012.

Helen Benedict's books, "Sand Queen", and "The Lonely Soldier", along with her articles about the sexual assault of women in the military, inspired the award-winning documentary, The Invisible War, shown to acclaim at Sundance, 2012.
Recently, Professor Benedict has published at least 14 articles about women soldiers and the Iraq War, including an Op-Ed in The New York Times in May 2008, pieces on BBC and The Nation Web sites, and articles in Ms., In These Times, Columbia, and elsewhere. In March 2007, she published a piece on the sexual assault of women soldiers in Salon magazine, which won the James Aronson Award for Social Justice Journalism.
Professor Benedict's other nonfiction books include "Virgin or Vamp: How the Press Covers Sex Crimes" (1992), an analysis of the way sex, race and class bias affect the coverage of rape; "Portraits in Print" (1991), a collection of profiles; and "Recovery: How to Survive Sexual Assault" (1985, 1994). Her earlier novels include "The Edge of Eden," (2009), "The Opposite of Love" (2007), "The Sailor's Wife" (2000), "Bad Angel" (1996, 1997) and "A World Like This" (1990).
She has worked as a newspaper feature writer in London and California, has written for The New York Times Book Review, The Washington Post, Poets & Writers, Huffington Post, In These Times, Ms., the Women's Review of Books, and many other publications, and is widely anthologized. She has received fellowships from Yaddo, MacDowell, the Virginia Center of the Arts, Ragdale and the Freedom Forum.