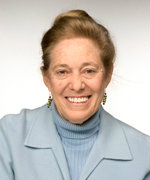 Ruth L. Fischbach is a faculty member both in the Department of Psychiatry at the Columbia University College of Physicians and Surgeons and the Department of Sociomedical Sciences at the Columbia University Mailman School of Public Health. Prior to arriving at Columbia, Dr. Fischbach served from 1998 to 2001 as Senior Advisor for Biomedical Ethics in the Office of the Director of Extramural Research at the National Institutes of Health. Here she participated in many federal interagency committees designed to protect the rights and welfare of research participants.
At Columbia, Dr. Fischbach is a member of the Columbia University Medical Center (CUMC) Institutional Review Board (IRB), the CUMC Ethics Committee, the Children's Hospital of New York (CHONY) Ethics Committee, the University Stem Cell Consortium, the University's Stem Cell Oversight Committee, the Ethics, Policy, and Human Rights Core of the HIV Center at Columbia and the NY State Psychiatric Institute, and the Advisory Board for the Center for the Study of Science and Religion. Beyond Columbia, Dr. Fischbach serves on the Arnold P. Gold Foundation Medical and Professional Advisory Council and Gold Foundation Honor Society, and the Population Council IRB. Dr. Fischbach is a member of the Board of Directors of PRIM&R (Public Responsibility in Medicine and Research) and the Morris Jumel Mansion in historic Washington Heights.
Research
Her research interests and scholarly publications have focused on decisions around the end of life, autonomy of the elderly, communication between patients and healthcare professionals, pain assessment and management, and the experiences of research participants, particularly as they relate to privacy and informed consent.

Practice
Her current work focuses on research ethics and contemporary issues in bioethics including: neuroethics, stem cell research, and advances in assisted reproductive technology.