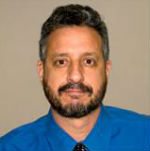 Gerald Martone is Director of Humanitarian Affairs at the International Rescue Committee's headquarters in New York, where he is involved in advocacy initiatives that influence policy and public support for people affected by political oppression, disasters, and violent conflict.
Martone was previously Director of Emergency Response with the International Rescue Committee. In this capacity, he oversaw emergency assessments and operations in Burundi, Liberia, Kosovo, Chechnya, Congo, Sierra Leone, Rwanda, East Timor, Northern Uganda, Bosnia, Angola, Ethiopia, Darfur-Sudan, Middle East, Afghanistan, Iraq, and Tsunami-affected areas of Indonesia.
Martone served two elected terms as co-chair of the Disaster Response Committee of InterAction and served on the Sphere Project Management Committee. He has published numerous articles and book chapters covering a variety of topics on international aid and is an active spokesperson for human rights and humanitarian assistance.