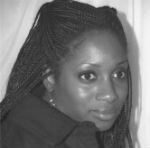 Kalima DeSuze possesses a diverse background of work and life experience and as a result, has developed many skills and strengths which she brings to her community organizing work. She is currently the Community Development Director at Service Women's Action Network (SWAN) where her chief responsibilities are to create, implement and evaluate innovative healing programs for women service members and veterans.
A six-year United States Army veteran, Ms. DeSuze is uniquely positioned to engage and respond to the needs of servicewomen. After transitioning in 2004, she earned a BA in Social Work (general practice) from Hood College. Her work toward the completion of the program included providing direct services to mentally ill participants using the clubhouse model, co-facilitating a Men Trauma group in the local jail and an internship in Limerick, Ireland where she worked with survivors of domestic violence. This experience prepared her for her graduate program and subsequent organizing work.
Ms. DeSuze earned a Masters in Social Work (MSW) with a concentration in community organization planning and development from Hunter College. While earning her MSW, Ms. DeSuze was the primary organizer for the Undoing Racism Project; she continues to sit on the Undoing Racism Internship Steering Committee where she helps to guide, support and shape student led organizing in New York City. All of her experiences provided a solid foundation for her tenure at Voices of Women Organizing Project where she served as the chief strategist for their three main campaigns among other duties including staff and member development.
Ms. DeSuze is a member of the Board of Directors of National Association of Social Workers-NYC.