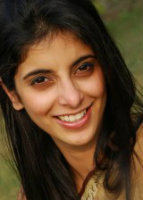 Received her B.A. (2001) and M.A. (2003) in English from St. Stephen's College, Delhi University, and her M.A. (2004) and Ph.D. (2009) in Performance Studies from the Tisch School of the Arts, New York University. She was the receipent of the Deena Burton Dissertation Research Award (May 2009), and a recipient of the Paulette Godard Summer Fellowship (2006). She recently published "Book Review: Sudipto Chatterjee's /The Colonial Staged: Theatre in Colonial Calcutta" in Comparative Studies in South Asia, Africa and the Middle East Duke University Press 28(3) (2008). She has "Efficacy-Entertainment Dyad" and "Matrixed/Unmatrized Performance," forthcoming in Performance Studies Key Concepts, (edited by G. Cody), Routledge: London. Her theatre experience includes facilitating workshops on Theatre for Social Change and Theatre of the Oppressed in Rhode Island and New York (2005-2009) performing in proscenium and street theatre shows with Jana Nayta Manch in New Delhi (between 2000-2003). She has taught at Brown University and New York University. At Barnard she will be teaching World Theatre History, Traditional Indian Performance, Modern Asian Theatre, Performance Theory and Theatre History.
Research
Professor Mitra studies the intersection of theatre and politics, both on the stage and on the street. Much of her work has centered on Delhi and other parts of northern and eastern India.
Practice
In March of 2012, Professor Mitra visited Sangli, "a rural community on the border of India's Maharashtra province, to spend a day with a collective of sex workers who use theatre to help women assert their rights".