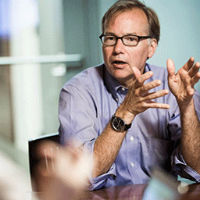 Dean Steve Coll is a staff writer at The New Yorker, the author of seven books of nonfiction, and a two-time winner of the Pulitzer Prize. Between 1985 and 2005, he was a reporter, foreign correspondent and senior editor at the Washington Post. There he covered Wall Street, served as the paper's South Asia correspondent, and was the Post's first international investigative correspondent, based in London. Over the years, he won the Gerald R. Loeb Award for his business coverage; the Livingston Award for his work from India and Pakistan; and the Robert F. Kennedy Award for his coverage of the civil war in Sierra Leone. He served as managing editor of the Post between 1998 and 2004. The following year, he joined The New Yorker, where he has written on international politics, American politics and national security, intelligence controversies and the media.
Coll is the author of "Ghost Wars: The Secret History of the CIA, Afghanistan, and Bin Laden, from the Soviet Invasion to September 10, 2001," published in 2004, for which he received an Overseas Press Club Award and a Pulitzer Prize. His 2008 book, "The Bin Ladens: An Arabian Family in the American Century," won the PEN/John Kenneth Galbraith Award for Nonfiction in 2009 and was a finalist for the Pulitzer Prize for Biography. His most recent book is "Private Empire: ExxonMobil and American Power," which won the Financial Times/Goldman Sachs Award as the best business book of 2012. His other books are "On the Grand Trunk Road: A Journey into South Asia" (1994); "Eagle on the Street" (1991), which was based on his Pulitzer Prize-winning reporting for the Post on the S.E.C., written with David A. Vise; "The Taking of Getty Oil" (1987); and "The Deal of the Century: The Breakup of AT&T" (1986).
Coll served as president of the New America Foundation, a public-policy institute in Washington, D.C., between 2007 and 2012. He graduated from Occidental College in Los Angeles in 1980 with a degree in English and history.