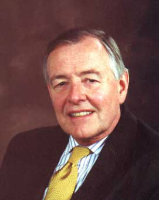 Professor Martin's professional experience has been built around his 29 years as executive director of Columbia's Center for the Study of Human Rights, of which he was a co-founder, along with Law and University Professor Louis Henkin. Prior to being executive director, and later simultaneously, he was director of the Earl Hall Center at Columbia University; lecturer in the School of International and Public Affairs; and adjunct professor at Teachers College. He has also served as director of the Human Rights and humanitarian affairs concentration at the School of International and Public Affairs, as well as academic advisor for the human rights concentration in the master's program of the Graduate School of Arts and Sciences.
Prior to coming to Columbia for his Ph.D., Professor Martin was dean of residence and lecturer at the then new University of Botswana, Lesotho, and Swaziland in Lesotho. Today he remains a senior scholar at the Center for the Study of Human Rights at Columbia University.
Research
Professor Martin's early publications were on moral education. More recently he has focused on human rights and human rights education. He has edited three collections of human rights documents and contributed to the Oxford Encyclopedia on Political Science and the Encyclopedia of the Modern Middle East.

Practice
Academic Focus:
Human rights education
Religion & world community
Corporate social responsibility
Development in Africa