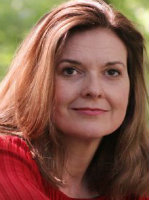 Nelson specializes in the area of international media development and has worked extensively as an analyst, evaluator, and practitioner in the field. She has taught at Columbia University since 1995, integrating student online publications on their research. Nelson is a graduate of Yale University, a member of the Council on Foreign Relations, and the recipient of a 2005 Guggenheim Fellowship for work on media and Nazi Germany.
Research
Nelson has written extensively on media, conflict, and human rights. She was a war correspondent in Latin America, and reported from Eastern Europe and Asia, with work appearing in the New York Times, the Los Angeles Times, Harper's, BBC, CBC, NPR and PBS. Her writing has won six awards, including the Livingston Award for international reporting.

Practice
Nelson consults for many leading U.S. foundations, including OSI, Gates, Rockefeller, Carnegie and Knight. Nelson was formerly the director of the International Program at the Columbia School of Journalism and executive director of the Committee to Protect Journalists.
Nelson is a widely-produced playwright and screenwriter. Her 2001 play, "The Guys," deals with the post-9/11 experience and has been produced throughout the United States and in fourteen countries. Her screenplay became a 2002 feature film starring Sigourney Weaver and Anthony LaPaglia, which received the National Board of Review award for Excellence in Filmmaking. Her play "Savages," based on the true story of war crimes during the U.S. occupation of the Philippines, was produced off-Broadway in 2006 and published by Dramatists Play Service.