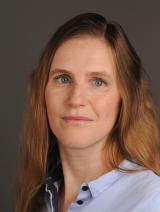 Séverine Autesserre joined the faculty of Barnard College in July 2007. Prior to coming to Barnard, she was a postdoctoral associate and lecturer at Yale University where she conducted research on civil and international wars, international intervention, and African politics. Her teaching duties at Barnard include such courses as Aid, Violence, and Politics in Africa (Colloquium); Senior Research Seminar in International Relations; and Civil Wars and International Interventions in Africa. She also teaches a seminar on civil wars and peace settlements at the School of International and Public Affairs, Columbia University. She is affiliated with the Barnard's Africana studies program, Columbia's Saltzman Institute for War and Peace Studies, and Columbia's Institute of African Studies. Dr. Autesserre was awarded an AC4 interdisciplinary research award in 2010 and 2011 (competitive renewal) for her work on international interventions in conflict.
Research
Dr. Autesserre's current research project examines how everyday elements influence international peacebuilding interventions on the ground. She has conducted extensive fieldwork for this project between 2010 and 2012, with a primary case study on the eastern Democratic Republic of Congo and comparative research in Burundi, Cyprus, Israel and the Palestinian Territories, South Sudan, and Timor-Leste. Findings from this project have appeared in Critique Internationale and African Affairs, and a recently published a book entitled Peaceland: Conflict Resolution and the Everyday Politics of International Intervention (Cambridge University Press in 2014).
Practice
Professor Autesserre has extensive experience working with international humanitarian and development agencies in Afghanistan, Kosovo, the Democratic Republic of Congo, Nicaragua, India, and the United States. She has worked for organizations such as Doctors Without Borders and Doctors of the World.