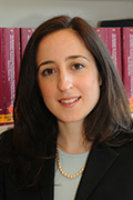 Alexandra Carter is the director of the Edson Queiroz Foundation Mediation Program and director of Clinical Programs at Columbia Law School. Carter won the Jane Marks Murphy Prize for clinical advocacy while a student at Columbia Law School and has become a strong advocate of mediation as a valuable tool for many kinds of legal challenges. Through the New York Peace Institute, a nonprofit that specializes in mediation, Carter has served as a mediator. She has also supervised student mediations in court-related programs at New York City Civil Court and Harlem Small Claims Court.
Before joining Columbia Law School, Professor Carter was at Cravath, Swaine & Moore where she served on a team defending against a multibillion-dollar securities class-action lawsuit related to Enron. She also served as the senior antitrust associate on several multibillion-dollar mergers and worked on cases involving copyright law.
Carter majored in English and minored in Mandarin Chinese at Georgetown University, earning her bachelor of arts in 1997. She spent 1997-98 in Taiwan on a Fulbright Scholarship, where she researched Taiwan's contemporary literature to assess the political tensions at the time between those who wanted the island to assert independence and those who favored reunification with the Republic of China. She worked as a private equity analyst with Goldman Sachs in New York from 1998 to 2000, then enrolled at Columbia Law School, where she took the mediation clinic, and later worked as a teaching assistant in the clinic under Professor Carol Liebman. Carter also was articles editor for the Journal of Transnational Law. While at Columbia Law School, Carter also won the Lawrence S. Greenbaum Prize for best oral argument in the 2002 Harlan Fiske Stone Moot Court Competition. Carter earned her juris doctor in 2003, then clerked for the Honorable Mark L. Wolf, U.S. District Court for the District of Massachusetts in Boston before joining Cravath, Swaine & Moore.