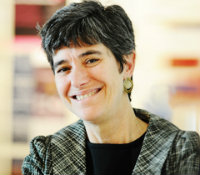 Susan Sturm is the George M. Jaffin Professor of Law and Social Responsibility and the founding director of the Center for Institutional and Social Change at Columbia Law School. She has published numerous articles, case studies and books on "the architecture of inclusion," institutional change, transformative leadership, workplace equality, legal education, and inclusion and diversity in higher education.
Her recent publications include: Scaling Up (2010); Negotiating Workplace Equality (2008); Conflict Resolution and Systemic Change (with Howard Gadlin, 2007); The Architecture of Inclusion: Advancing Workplace Equity in Higher Education (2006); Law's Role in Addressing Complex Discrimination (2005); Equality and the Forms of Justice (2004); Lawyers and the Practice of Workplace Equity (2002); Second Generation Employment Discrimination: A Structural Approach, (2001); and Who's Qualified? (with Lani Guinier, 2001). "The Architecture of Inclusion" was the focus of a symposium issue published in the June 2007 issue of the Harvard Journal of Law and Gender.
Sturm is the principal investigator for two Ford Foundation grants awarded to develop strategies for advancing post-secondary education for communities affected by incarceration, as well as immigrants and veterans, and for an Aspen Ascend grant to devlop multi-generational strategies for advancing higher education for communities affected by the criminal justice system. She has co-chaired a working group on Transformative Leadership, as part of a Ford FOundation funded project on Building Knowedge for Social Justice. In 2007, she recieved the Presidential teaching Award for Outstanding Teaching at Columbia.